Childhood Cancer Predisposition Syndromes
Each year over 10,000 children will be diagnosed with cancer in the United States, and cancer remains the number one cause of death from disease in children. While this is alarming, scientists and doctors are making significant progress in developing new treatments and discovering the etiology of various cancers. 
This article covers the basics of childhood cancer predisposition syndromes, including examples, how Solving Kids' Cancer's advocate was involved in the international workshop that resulted in consensus papers on recommended surveillance for the most common pediatric cancer predisposition syndromes, and the potential for newborn screening. 
What is a Predisposition Syndrome?
In some cases, cancer risk is hereditary — meaning a child inherits a genetic predisposition to cancer from a birth parent, which is indicated by a specific mutation in the germ-line (normal tissue). A predisposition syndrome carries an increased risk of developing cancer at an earlier age compared to the general population. 
How Common Are Childhood Cancer Predisposition Syndromes?
Childhood cancer is a very rare disease, affecting a small percentage of all children. Of the 75 million children aged 19 or less in the United States, 16,000 are diagnosed with cancer each year — meaning about 1 in 5000 children will be diagnosed annually.
Cancer predisposition genes are suspected in roughly 10% of childhood cancers — so this means approximately 1 in 50,000 children may have a cancer predisposition genetic condition. Additionally, these genes carry a varying risk of cancer occurrence before age 50. Some genes are associated with a very high risk (ie 50% or more) and others indicate a very low risk (ie less than 5%). The varying risk can complicate the decision to recommend aggressive surveillance measures.
What Research is Being Conducted on Childhood Cancer Predisposition Syndromes?
In early 2016, the Cancer Predisposition Working Group of the Society for Pediatric Oncology and Hematology convened experts to review the available data, categorize the large amount of information, and develop recommendations regarding when a cancer predisposition syndrome should be suspected in a young oncology patient. This meeting resulted in a published review with recommendations in 2017.
In October 2016, the American Association for Cancer Research (AACR) sponsored an international workshop in Boston on pediatric cancer predisposition syndromes under the leadership of the Pediatric Cancer Working Group (PCWG) Steering Committee Chair, Dr. Garrett Brodeur, from Children's Hospital of Philadelphia. Of the 65 attendees from 11 countries, the sole advocate invited was from Solving Kids' Cancer, a member of the AACR PCWG Steering Committee. 
This three-day workshop convened the world's top experts in cancer predisposition programs, genetic counselors, radiologists, directors of adult cancer predisposition programs, and other specialties. The goal was to review the state of pediatric cancer predisposition science and develop a consensus on surveillance recommendations for specific syndromes. The workshop resulted in an unprecedented rapid publication rate of 18 papers in 2017 and 2018. 
The first paper, from 2017 titled, "Pediatric Cancer Predisposition and Surveillance: An Overview, and a Tribute to Alfred G. Knudson Jr.," states that "recent reports suggest that at least 10% of pediatric cancer patients harbor a germ-line mutation in a cancer predisposition gene." The article explains that some of these patients may have: 
        • Familial cancer (typically three or more close family members with a particular type of cancer) 
        • Bilateral, multifocal, or multiple cancers
        • Earlier age at diagnosis than typical for certain tumors
        • Physical conditions that may indicate a cancer predisposition syndrome
        • Tumors that are typical of a genetic predisposition to cancer 
Experts recommend that if any of the points above pertain to a child, they should be evaluated at a predisposition center and have germ-line tested for genetic testing for pediatric cancer. 
Another example of childhood cancer that can be linked back to predisposition syndromes is leukemia. The AACR series article "Recommendations for Surveillance for Children with Leukemia-Predisposing Conditions," lists leukemia as the most common pediatric cancer. Because of its prevalence, much has been uncovered regarding the conditions predisposing individuals to it. Here are a few of the predisposition syndromes associated with leukemia in children: 
        • Li-Fraumeni Syndrome
        • Down Syndrome
        • Fanconi anemia
Studies show that birth defects are one of the strongest risk factors for cancer in children, but who is at risk and why? Researchers at Baylor College of Medicine in Texas, led by Dr. Philip Lupo, are examining the relationship between non-chromosomal birth defects and the risk of cancer in children in the Genetic Overlap Between Anomalies and Cancer in Kids in the Children's Oncology Group: The COG GOBACK Study. GOBACK began in late 2021 and plans to accrue 1000 children with birth defects and cancer in five years.
How to Determine a Predisposition Syndrome & Plan Surveillance 
If a person knows they have a cancer predisposition syndrome or suspects they do due to a family history of cancer, it's important they seek genetic counseling. This is especially critical if they have a biological child. A primary care physician can evaluate risk factors and provide a referral for genetic testing, which, in most cases, is covered by health insurance. 
Genetic testing can be completed with a sample of blood, saliva, a piece of hair, and other bodily fluids, as well as conducted on fetuses by collecting a sample of amniotic fluid (also known as amniocentesis). 
If a person has a predisposition syndrome, there are recommended surveillance protocols to detect any cancers early. Here are the ways two well-known cancer predisposition syndromes are monitored by healthcare professionals: 
        • Li Fraumeni Syndrome: The American Association for Cancer Research lists this syndrome as "among the most aggressive cancer predisposition syndromes characterized by a                 high and early-onset cancer risk." This syndrome can lead to an array of brain tumors — including medulloblastoma, soft tissue sarcomas, breast cancer, and more. Surveillance                  may include (frequency can vary): blood work, MRIs, ultrasounds, endoscopy or colonoscopy, physical examinations, and preventative surgery (in the case of breast cancer,
         mastectomy).
        • Leukemia predisposing syndromes: The American Association for Cancer suggests individuals with leukemia predisposing syndromes first get referred to a specialty center,                       where doctors can create a preventative care plan. This may include education about leukemia, physical examinations, and blood and bone marrow tests. 
Potential Expansion of Newborn Screening for Predisposition of Pediatric Cancer
In an episode of Solving Kids' Cancer "This Week in Pediatric Oncology (TWiPO)" podcast, co-host Dr. Tim Cripe of Nationwide Children's Hospital interviewed Dr. Lisa Diller, MD, Vice-Chair, Department of Pediatric Oncology at Boston Children's Hospital/Dana-Farber Cancer Institute. They discussed the research on newborn genomics screening to include predisposition syndromes.
Dr. Diller plans to conduct a pilot study in several hospital settings, where they teach parents about hereditary retinoblastoma — cancer of the retina. Parents can opt-in to have their newborn tested for the RB1 variant, which can lead to this type of cancer. In addition to testing newborns for the RB1 variant, researchers could also test babies for numerous other genes of interest — to perform more robust genetic testing for pediatric cancer. 
The importance of expanding testing through studies like Dr. Diller proposed not only serves to inform patients but science as well. And though children who carry a variant of a gene mutation that causes cancer may present a low risk to the general population, in reality, the relative risk to the person who has it can be quite high — leading to a greater likelihood of mortality. 
Studies like Dr. Diller's will help determine whether or not a young child is predisposed to cancer. If they are, it will allow for swift action with screening and surveillance, hopefully leading to increased survivorship.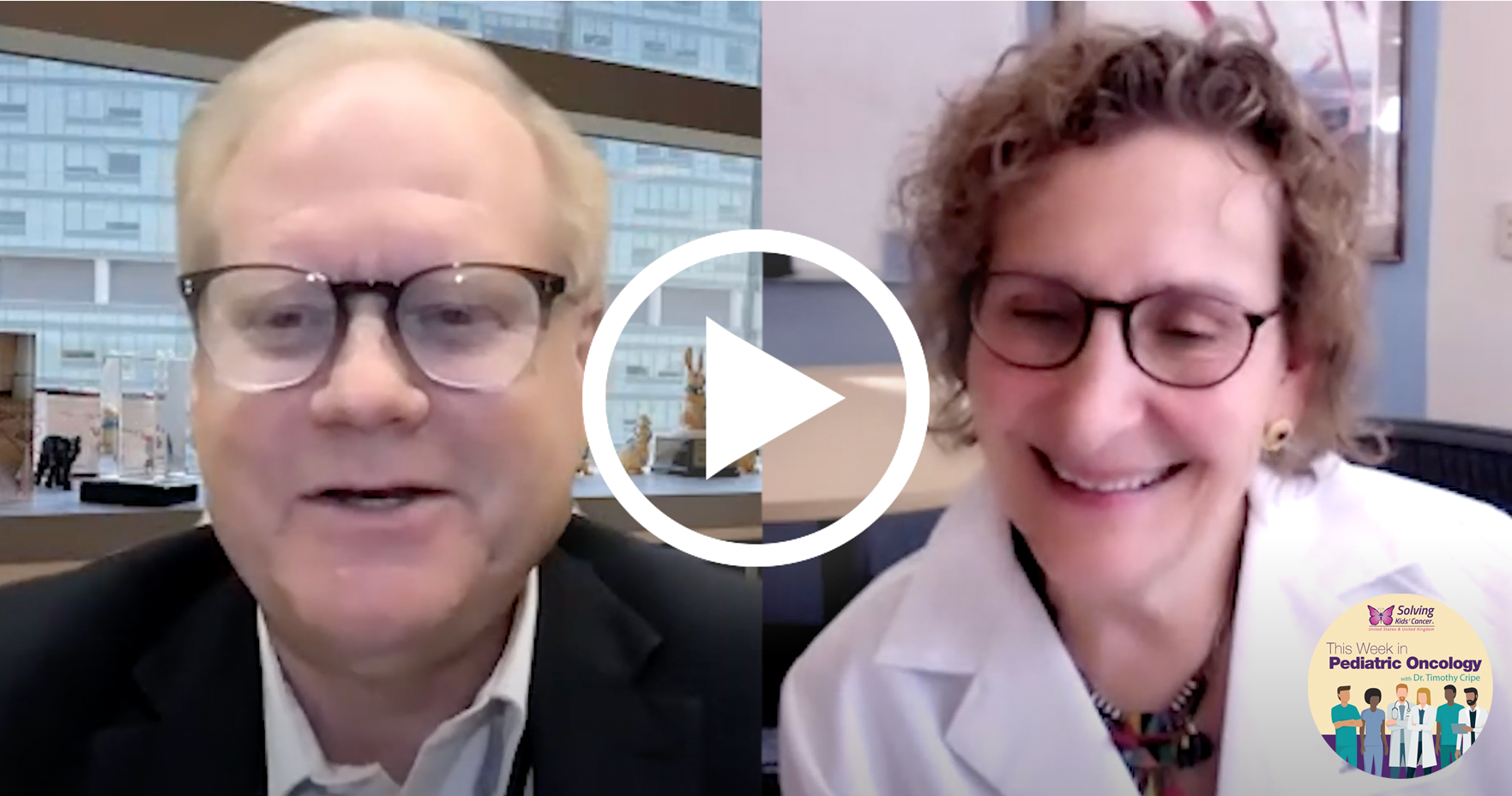 Help Solving Kids' Cancer Fund Innovative Research on Predisposition Syndromes
Solving Kids' Cancer prioritizes and funds innovative preclinical research and early phase clinical trials with a strong rationale for potential benefit to children with poor prognosis cancers. As dedicated research advocates, SKC works in the research landscape to advance the work on cancer predisposition syndromes, so children who carry gene mutations that can lead to cancer have the preventative care and surveillance they need to live long lives. 
However, screening for predisposition syndromes depends on the cost-effectiveness of genetic testing. Treating pediatric cancer, or any cancer for that matter, costs health insurance companies and families astronomical amounts. As Dr. Diller explained, the hope is that "as the cost of genetic testing decreases or as newborn screening becomes more dependent on genetics, the more cost-effective screening will be for all."
Help SKC increase awareness of cancer predisposition syndromes in children and for the treatment of rare childhood cancers, so we can help more at-risk children and their families — because Every Kid Deserves to Grow Up®.