ETMR Brain Cancer: Advancing Treatment Protocol
Embryonal tumor with multilayered rosettes (ETMR) attacks the youngest, most vulnerable patients — infants. In fact, 92% of patients affected by ETMR brain cancer are under the age of three at diagnosis. For the first time, experts are addressing the challenges of ETMR and developing the first treatment protocol with international collaboration. 
This article covers the basics of ETMR, what advancements in treatment mean for childhood cancer patients, and Solving Kids' Cancer's role in propelling new treatment options and research forward. 
What Is an Embryonal Tumor With Multilayered Rosettes?
An ETMR brain tumor is one of the most aggressive pediatric brain tumors (grade IV), and a relatively new entity in the world of childhood cancer — recognized by scientists as a distinct tumor type in recent years. This particular type of brain tumor is embryonal, which originates from the fetal (embryonic) cells in the brain. Embryonal tumors can occur at any age, but most often occur in babies and young children. ETMR brain cancer typically originates in the cerebellum — an area of the brain that regulates a person's balance and sense of equilibrium.
According to the National Library of Medicine, "All ETMRs, despite their highly heterogeneous histology, are characterized by specific high expression of the RNA-binding protein LIN28A, which is, therefore, often used as a diagnostic marker for these tumors. This tumor type affects as many males as females, and the 5-year survival rate is anywhere from 0-30%.
Symptoms & Causes of ETMR Brain Cancer
Symptoms of an embryonal tumor with multilayered rosettes are different for each patient depending on various factors such as how advanced tumor growth is, location and whether or not the tumor is causing increased intracranial pressure (ICP). 
Like medulloblastoma, ETMRs can block the flow of cerebrospinal fluid (CSF), resulting in hydrocephalus, an over-accumulation of fluid in the brain's ventricles, and ICP. ETMR symptoms can include: 
          • Seizures
          • Headaches
          • Nausea and vomiting 
          • Increased lethargy
          • Weakness in the arms and legs
          • Facial weakness and drooping
          • Changes in vision/eye movements (double or blurred vision and uncontrolled movements) 
          • Issues with balance, coordination or walking
          • Twisting of the neck (resulting in involuntary head tilting) 
The exact cause of this pediatric cancer is unknown. Still, research shows that "Since the discovery of the characteristic chromosome 19 miRNA cluster (C19MC) amplification over a decade ago, the methods for diagnosing this entity have improved and many new insights in the molecular landscape of ETMRs have been acquired."
Diagnosis of ETMR Brain Cancer
ETMRs are extremely rare — so much so that few statistics around the number of cases each year exist. This type of brain tumor is typically diagnosed through: 
          • Magnetic resonance imaging (MRI) 
          • Computed tomography scan (CT scan)
          • Surgery or biopsy to determine pathology and genomics
Scans are non-invasive and allow doctors to collect detailed images of the brain and other areas such as the spinal cord to determine the next steps for treatment. Surgery or biopsy to examine the tissue is a necessary part of the diagnostic process.
In general, treatment consists of surgery, radiotherapy, and chemotherapy.
Here is the story of how one young patient was diagnosed with ETMR.
Addie's ETMR Treatment Journey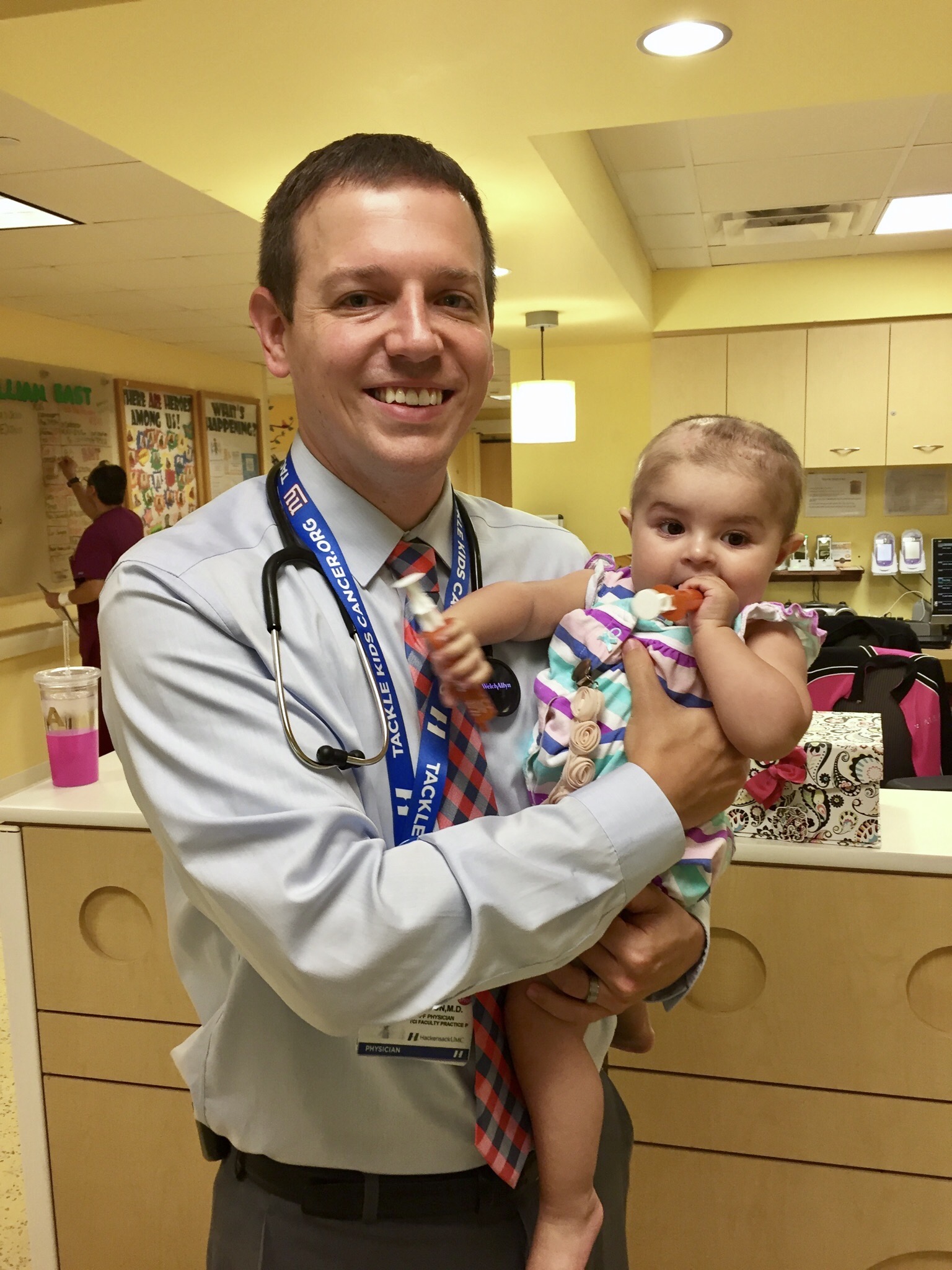 Addie was just four months old when her worrisome symptoms first appeared. She was sleeping more than usual and vomiting. After multiple visits to the doctor over the next month, her symptoms became more severe. Finally, an ER doctor ordered a CT scan, and they immediately recognized Addie had a brain tumor. 
A few days later, Addie had surgery, and after three painstakingly long weeks, her parents, Brian and Vanessa, received their daughter's diagnosis: ETMR and Addie's prognosis was grim. 
Addie's parents were facing two harsh realities: Their daughter's poor prognosis and a total lack of treatment protocol for this type of brain cancer. But still, Addie's parents held on to their hope and remained determined to save their daughter. 
Dr. Derek Hanson, M.D., Section Chief, Pediatric Neuro-Oncology, Joseph M. Sanzari Children's Hospital at Hackensack University Medical Center was Addie's doctor. He quickly got to work connecting to peers who had experience with treating ETMRs. Additionally, he spent numerous hours studying case histories to develop a plan of action for Addie. 
While Dr. Hanson was conducting his research, Addie's parents were also connecting with ETMR families around the world — getting information and advice on each course of treatment, the ups and downs of the diagnosis, new ideas and what didn't work. All of this influenced Dr. Hanson's treatment recommendation. In many ways, navigating Addie's diagnosis was like crowdsourcing for cancer treatment. 
For eight months, Addie underwent numerous courses of chemotherapy, surgeries to resect her tumor and an autologous peripheral blood cell transplant — which are the existing ETMR treatment options. Due to her young age she did not have radiotherapy to avoid the severe long-term effects.
Addie is now 6 years old and enjoying school. She continues to have follow-up care to evaluate any possible long-term side effects of her treatment.
Advancing Treatment Protocols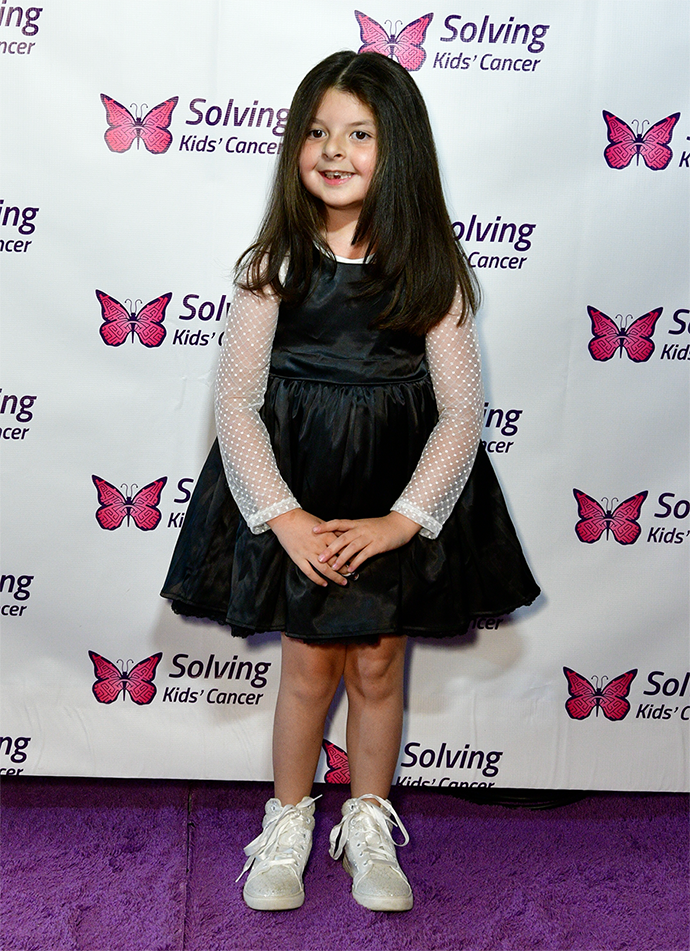 Patients like Addie profoundly impacted Dr. Hanson, and over a few short years, he has become a leader in ETMR treatment. In fact, in 2019, he convened a congress of brain tumor experts to address the challenges of this pediatric brain tumor and has now developed the first treatment protocol with international collaboration. 
This trial is described in the article titled, "ETMR -08. International Consensus Protocol For Embryonal Tumor With Multilayer Rosettes," published in Society for Neuro-Oncology, "A consensus protocol was developed incorporating maximal safe surgical resection, induction chemotherapy with active pre-clinical agents, intrathecal chemotherapy, radiotherapy, and high-dose chemotherapy." 
This international consensus was a significant stride in establishing a clinical trial to study and treat ETMRs. Dr. Hanson designed this innovative trial to treat each subset of ETMR best. It will be conducted by an international brain tumor consortium, making it available to children worldwide. 
This pioneering program also includes a robust data registry so research can advance at a more rapid pace to find a cure. The clinical trial will be the first of its kind to treat this deadly brain tumor with new cancer drugs, and researchers will use the information and data collected in this inaugural trial to compare the outcomes of subsequent trials.
Solving Kids' Cancer's Role in Propelling ETMR Brain Cancer Treatment Options & Research
Brain cancer is the leading cause of cancer death among pediatric patients. Despite significant improvements in outcomes for some rare pediatric cancers, when current treatments such as chemotherapy, surgery, or radiation fail, there is still an unacceptably low chance of survival for some brain cancers. 
At Solving Kids' Cancer, we prioritize and fund innovative preclinical research and early phase clinical trials with a strong rationale for potential benefit to children with poor prognosis cancers — like embryonal tumors with multilayered rosettes. 
Over the past decade, we have funded multiple clinical trials to study a variety of pediatric brain tumors. Our team is excited to work with determined ETMR families and Dr. Hanson to launch the clinical trial to ensure all families have a structured treatment protocol — instead of having to use ad-hoc treatment in the hope of a cure. 
But our work doesn't stop with this clinical trial. With a focus on innovative treatments like immunotherapy and access to a global network of top research scientists and medical doctors. As a result, we believe it is possible to find a cure for rare pediatric brain tumors like ETMRs.
Help us increase awareness and funding for the treatment of ETMRs, so we can develop new, more effective treatment options for children facing the most deadly brain tumors. Your gift to Solving Kids' Cancer will provide hope for these small patients — because Every Kid Deserves to Grow Up®.