This Week in Pediatric Oncology Podcast's 100th Episode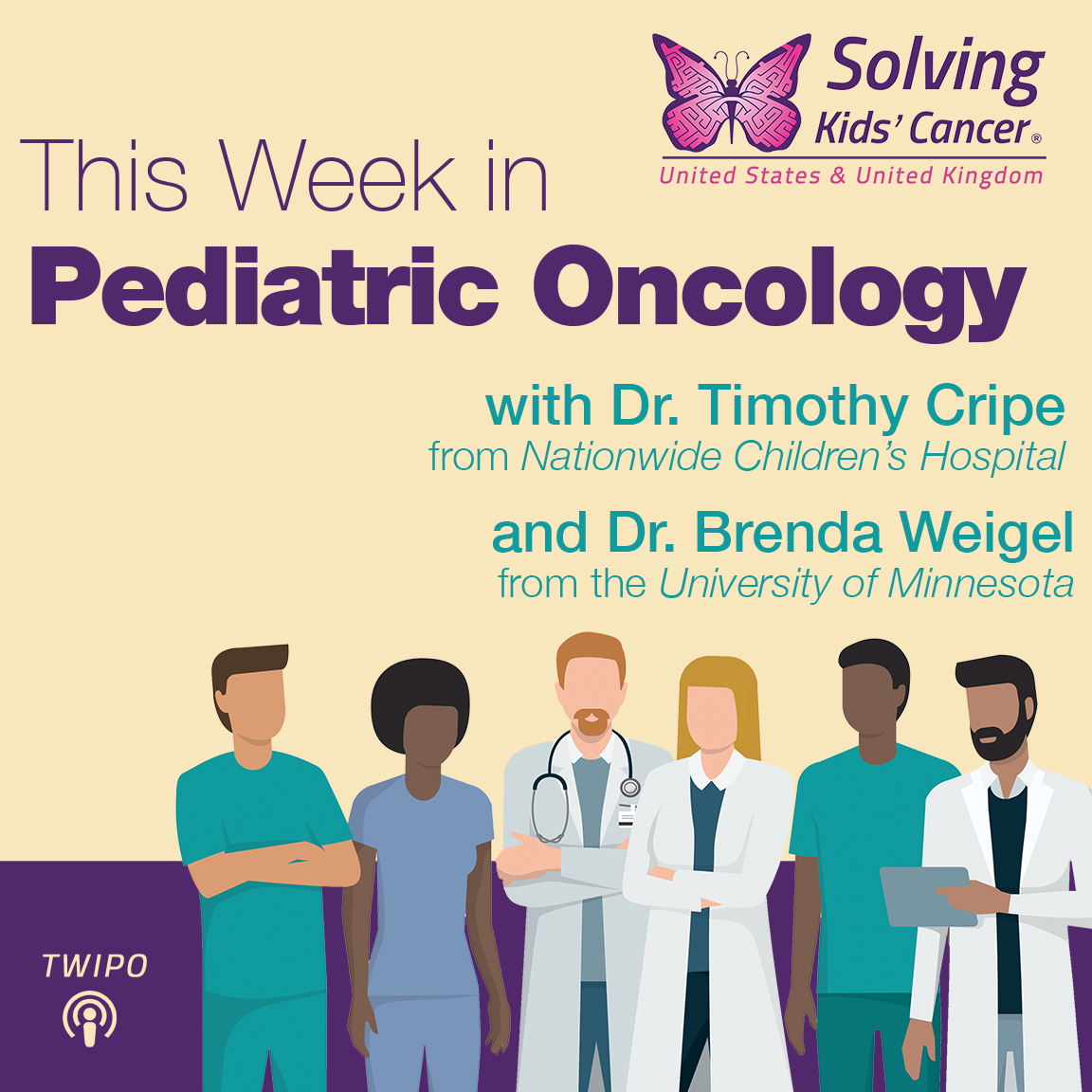 Happy 100th Episode to the This Week in Pediatric Oncology (TWiPO) Podcast! TWiPO is a free childhood cancer podcast dedicated to supporting families and advancing research through weekly discussions of trending topics and exciting new developments in pediatric cancer. 
Produced by Solving Kids' Cancer (SKC), TWiPO is hosted by Dr. Timothy Cripe, chief of the Division of Hematology and Oncology at Nationwide Children's Hospital and Dr. Brenda Weigel, director of the Division of Pediatric Hematology/Oncology and professor at the University of Minnesota's Cancer Center and the Department of Pediatrics. 
Each 35-minute podcast explores breakthroughs in childhood cancer research, interviews with the world's leading experts and honest conversations with families affected by cancer.  
To celebrate the milestone event of 100 episodes, TWiPO hosts, Dr. Timothy Cripe & Dr. Brenda Weigel, are joined by SKC's Executive Director, Scott Kennedy, and Director of Research Advocacy, Donna Ludwinski. They look back on the history, creation and memorable moments of TWiPO, some of their favorite episodes over the past 11 years, as well as share what lies ahead for the cancer research podcast.
The Beginnings of TWiPO
As host Dr. Timothy Cripe explains in the first opening minutes of the 100th episode, TWiPO began as a way to take complicated ideas of pediatric oncology research and explain them in a way most people would understand.
Born out of Dr. Cripe's office, SKC's initial purpose for the podcast was to have conversations about pediatric cancer research publications and share experts' take on the research's strengths and weaknesses. As Dr. Cripe shares, TWiPO was intended for people listening in to understand the challenges of current research and roadblocks scientists often faced when advancing treatments.

Favorite Moments for the Cancer Research Podcast
Of course, a walk down memory lane wouldn't be complete without reminiscing on the cancer podcast's favorite moments. The hosts share which of the many incredible interviews personally impacted them. Dr. Cripe kicks it off by talking about episode 21 with Dr. Beatrice Lampkin, former pediatric hematologist-oncologist at Cincinnati Children's Hospital. Sincerely devoted to her patients in spite of the dire outcomes, Dr. Lampkin recounted how she did daily bone marrow assessments on patients to determine if cancer cells were dying from their chemotherapy treatments.
Another favorite episode from the podcast was shared by Scott, who appreciated the innovative work of Dr. Michael Taylor from SickKids (the Hospital for Sick Children) in Canada and Nabil Ahmed from Baylor Texas Children's Hospital. Dr. Taylor and Dr. Ahmed are co-authors of a research publication discussing novel therapy approaches for medulloblastoma. 
Solving Kids' Cancer's Impact on Pediatric Cancer Research
Before concluding, TWiPO host, Dr. Cripe, turns the episode over to Scott and Donna to talk about the charity and driving force behind the podcast: Solving Kids' Cancer (SKC). Scott shares that their motivation for doing what they do comes from being parents themselves of children with cancer. 
"One of the key things about SKC that we wanted to do from day one is to really direct the work that we do to where the best science is and the best people to carry that out," says Scott. He believes in the importance of understanding current pediatric cancer research to be able to influence and strengthen the science, resulting in more cures for children.
In forming SKC, the founders recognized that rare, aggressive pediatric cancers had the greatest area of unmet need, steering them to focus on maximizing impact on these high-risk cancers to give hope to families who were facing the poorest survival rates. This is where SKC invests funding and advocacy, so that the development of clinical trials will lead to effective treatments for children with cancer.
The Future of TWiPO
Since its first podcast in April 2011, TWiPO has already seen over 80,000 downloads from all over the world, from countries as far away as Vietnam, Peru, and Iraq. Currently, 103 countries make up the listening audience of TWiPO, expanding the platform of pediatric cancer research advocacy into a global movement.
Through in-depth discussions, our highly-rated childhood cancer podcast has been able to help people understand the latest advancements in research such as CAR-T Cell Therapy, genomic analyses, and targeted therapies, while advocating for the need for more funds to continue this important work for children with cancer.
So, what does the future of TWiPO look like? As Scott shares, one of the priorities for TWiPO is to highlight research that is making a notable difference in treatment approaches, motivating more supporters to strategize improvements in pediatric oncology. Moving forward, he also aims for TWiPO to not only continue to inform, but to inspire hope as well in families and advocates, mentoring the next generation of leaders in the childhood cancer space. 
Subscribe to TWiPO Today 
The more we learn, share ideas, and work together, the sooner we'll reach the day when all childhood cancers are curable. As always, keep up the fight and stay up-to-date with advancements being made in childhood cancer, conversations with leaders in pediatric oncology as well as inspiring families. 
Subscribe to TWiPO
Google Podcasts | Spotify | Apple Podcasts | YouTube