The Difference You Made for One Girl
At Solving Kids' Cancer we believe that funding just one clinical trial can save lives.
Kira, a 16 yr old teenager from Scotland, has been battling neuroblastoma since she was 11.  She's endured five years of multiple surgeries, intensive chemotherapy regimens, and toxic radiation treatments. 
With all that Kira endured, her tumors just would not stop growing. 
In May of 2018, her tumors no longer responding to chemotherapy, Kira came to NY with her family and underwent a complex surgery. As a result, Kira was, for the first time, declared to be in remission. But that joy was short-lived as, after returning home to Scotland, her scans showed that there were multiple areas of tumor regrowth.  In January of 2019, the family was informed that Kira was out of options.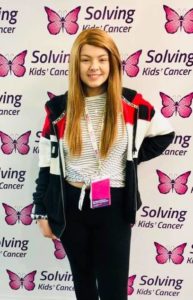 Solving Kids' Cancer had initially met Kira's family at a parent conference in London early in her journey as the family sought information about treatments and clinical trials, and was contacted for support.
We had an idea that might work for Kira.  SKC had just funded a promising clinical trial in the US that utilized a new drug, Lorlatinib, a very tolerable, oral therapy being studied to treat neuroblastomas that exhibit a specific genetic mutation. As part of SKC's ongoing efforts to increase global accessibility, our funding for this trial was conditioned upon expansion to kids in the UK and Europe. 
The UK clinical trial was actually close to opening -- but Kira couldn't wait.  So, SKC connected Kira's mother with experts in US, UK, and EU to verify if Lorlatinib was a match for her particular tumor.  Since the drug was not yet approved in Europe, even if confirmed the family would need to appeal for "compassionate use," a term used when a patient's likely outcome is fatal and an experimental treatment is the only option.  
Kira's appeal was approved and she began treatment with Lorlatinib, a little white pill that was her last hope. She and her family would have to wait 6 weeks to see if the drug was having any effect on her tumors.   
You know, you really should hear about it from Kira, herself.
We've followed Kira's journey as she continued to improve, and were recently overjoyed to see this post about her: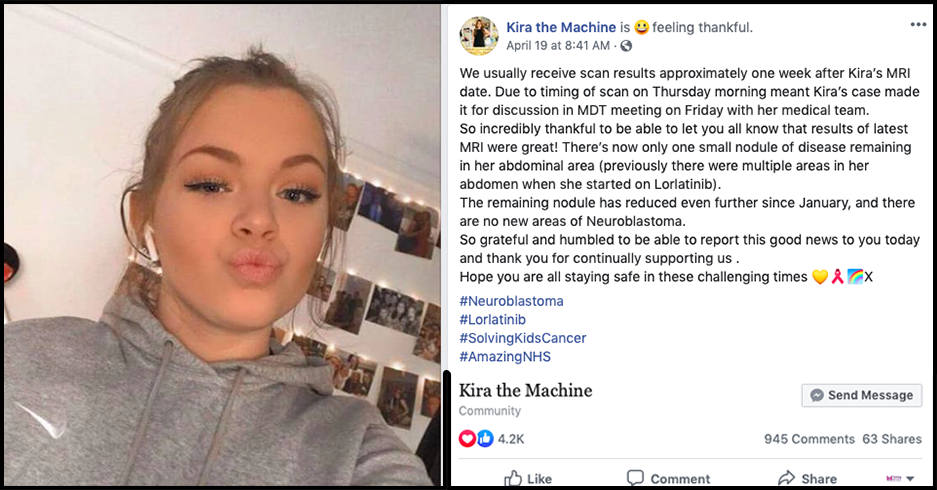 You should know that you are part of Kira's journey, perhaps a part that she may never know or meet, but your support provided a life-saving option for a teen-age girl from Scotland.  A 16 year-old girl that is back in school, hanging out with her friends, hitting the gym, going to concerts, and… living her life.
You can help improve outcomes for more kids like Kira by making a donation to Solving Kids' Cancer. Your gift helps fund research on aggressive childhood cancers with low survival rates. Donate today because every kid deserves to grow up.
This project was funded by donor support & funds from our charity partners: